Howe's Highway Floor Store, 1785 Post Road, Wells, Maine
Howe's Highway Floor Store has been a permanent fixture on Route One in Wells since 1941 when the business was founded by Frank Howe. Dan Dickerson started working for Mr. Howe in 1952. In 1980 Dan took over the store. He was later joined by sons, Terry and Tom Dickerson. Today the business is run by the father/son team of Dan Dickerson and Tom Dickerson. They bring you great inventory and a long-term commitment to serving the year-round and seasonal residents of southern Maine.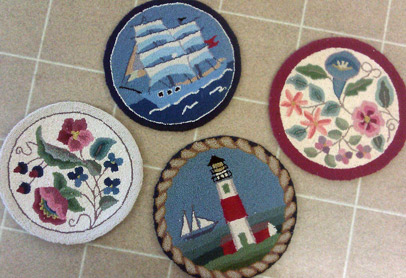 Looking for old-style chair pads ... we've got them!
Howe's Highway Floor Store offers an extensive selection of samples as well as in-stock items in the Route One 8,000 sq. ft. storefront. The store is open 6 days a week, closing only on Sunday.
You may purchase flooring materials for your own installation or have Howe's do the installation for you.
Dan and Tom Dickerson invite you to come and browse through their family store. If you see something you like, Dan will come to your home or business to measure your job so they can give you an accurate price. Most flooring, particularly carpeting, cannot be priced from a raw sq. ft. figure. This is because the materials do not come in 1 foot squares (e.g. most carpeting is sold in 12' or 15' rolls). Dan will view your layout and determine the best way to order your materials with minimal waste.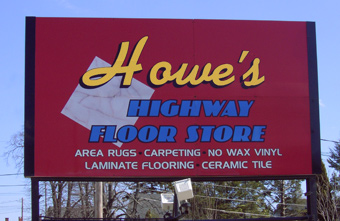 Howe's Highway Floor Store sign at 1785 Route One.
Howe's The Floor Store offers old-fashioned service and big-town selection in residential and commercial flooring products. Visit their large showroom in Wells. Discover why customers come from Maine, New Hampshire and Massachusetts to purchase their flooring from the Dickerson family. Many people assume that prices are lower at the large box stores, but that is just not always the case. Please call us for a free estimate on your project.